Meet Dr. Tanner Ruberg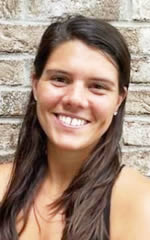 Dr. Tanner Ruberg is a Palmer College of Chiropractic graduate and sports lover. She was born and raised in Fairfield, OH, where she played competitive soccer. It was her love of sports that led her to become a chiropractor. As a goalkeeper, she was prone to injuries. Like a lot of people, she experienced back pain and sought help through traditional medicine. She felt that her concerns were not heard and she was told, time and time again, that nothing was wrong. As a last resort, she went to a chiropractor.
Within the first visit, the chiropractor had answers and a solution to her pain. After a few weeks of treatment, her pain was gone and she was able to get back on the field, ultimately earning Division One soccer scholarships.
It was then that she knew she wanted to be a chiropractor; a doctor that hears and believes you. One who works with you through your health journey whatever that may be for you. Dr. Ruberg has a passion for serving others through chiropractic care and wants to make it everyone's first choice, not their last resort!
Discover what we can do to increase your quality of life.
Contact
our friendly, knowledgeable team today!
---
Dr. Tanner Ruberg | (859) 431-4430