Experienced Back Pain Chiropractor in Cold Spring
Get Fast, Effective Relief for Back Pain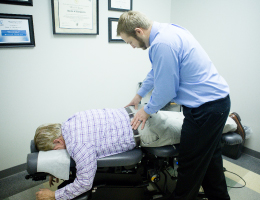 Have you been sidelined by back pain? If you answered yes, Cold Spring Chiropractor, Dr. Mark Johnson wants to help you.
Natural, Drug-Free Back Pain Treatment
Dr. Johnson's natural, drug-free approach to health care can help with many common back pain conditions.
Whether you're dealing with sciatia, lower back pain or chronic back pain that has been bothering you for years, or you have acute back pain caused by a new injury, Dr. Johnson understands your pain and can help.
Expert Back Pain Relief in Cold Spring
If you're hurt, Dr. Johnson can help.
Call (859) 431-4430 or book an appointment online now!

Get Help For Back Pain in Cold Spring – Call (859) 431-4430 Now